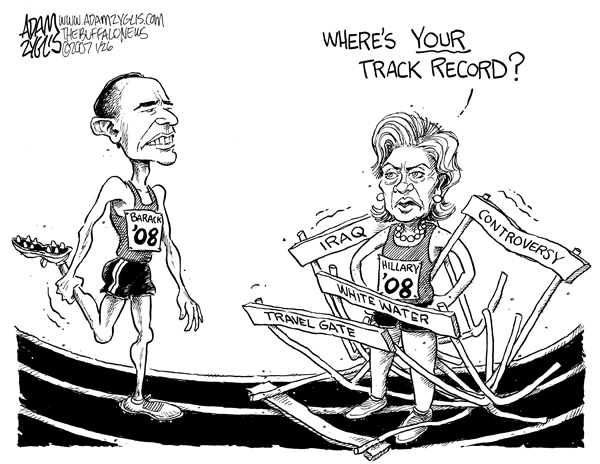 Clintons push a Hillary/Obama ticket
By Thomas Ferraro
WASHINGTON (Reuters) - Hillary and Bill Clinton are again teaming up on Barack Obama -- this time saying the first-term U.S. lawmaker, whom they have derided as inexperienced, would be a strong running mate on a Democratic presidential ticket headed by the former first lady.
In hailing Obama as a possible vice president, the Clintons are reaching out to him and, perhaps more importantly, to his backers, whose support she would need to defeat Republican presidential candidate John McCain in the November election.
"The Clintons are in a difficult position," said Dennis Goldford, a political science professor at Drake University in Iowa, who has tracked the presidential race.
"If she wins the Democratic presidential nomination, she would need Obama's supporters. But she needs to be careful. If this talk of him on the ticket is seen as a cynical maneuver, it could backfire and hurt her," Goldford said.

Source
Obama Ridicules Notion of VP Slot
By CHARLES BABINGTON
COLUMBUS, Miss. (AP) — Democrat Barack Obama ridiculed the idea of being Hillary Rodham Clinton's running mate Monday, saying voters must choose between the two for the top spot on the fall ticket.
The Illinois senator used his first public appearance of the week to knock down the notion that he might accept the party's vice presidential nomination. He noted that he has won more states, votes and delegates than Clinton so far.
"I don't know how somebody who is in second place is offering the vice presidency to the person who is first place," Obama said, drawing cheers and a long standing ovation from about 1,700 people.
Saying he wanted to be "absolutely clear," he added: "I don't want anybody here thinking that somehow, 'Well, you know, maybe I can get both.' Don't think that way. You have to make a choice in this election."
"I am not running for vice president," Obama said. "I am running for president of the United States of America."
Later, The Associated Press asked Obama if he would "absolutely close out any possibility" of taking the ticket's second spot. He replied: "I am not running for vice president, and don't intend to be the vice president."
Source
As I've said
before
, those two running together as a dream ticket wouldn't be a good idea because they represent different aspects of politics. They do have similarities but Hillary comes off very old school and Obama's the new kid on the block running on change. I don't understand how Hillary can, with a straight face, suggest that Barack run as her VP when he's the frontrunner.