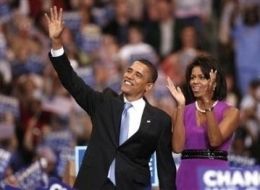 Obama Clinches Nomination, Capping Historic, Bitter Contest:
First African-American To Lead a Major Party Ticket; Clinton Refuses to Concede
By JACKIE CALMES

WASHINGTON -- Sen. Barack Obama captured enough convention delegates Tuesday to make a historic claim to the Democratic presidential nomination, the first African-American to earn a major party's nod.

The first-term Illinois senator defeated what had once been the most powerful machine in the party. His rival, Sen. Hillary Clinton, the former first lady who sought to be history's first female nominee, saluted him. But she did not concede, even as she signaled openness to being considered as his vice presidential running mate.

Sen. Clinton's refusal to drop out immediately came after her surprise win in South Dakota's primary Tuesday. That victory didn't change the dynamics of the race. But it underscored some of Sen. Obama's weaknesses, which were on display over the final month of the long campaign, when he suffered a string of landslide losses to his challenger.

Still, the nomination marked a remarkable accomplishment for the son of a Kenyan immigrant who spent part of his childhood in Hawaii and Indonesia.

"Tonight, I can stand before you and say that I will be the Democratic nominee for president of the United States of America," Sen. Obama told an estimated 32,000 people gathered in St. Paul, Minn., late Tuesday.
(
More Stuff...
)
All I can say right now is that I'm very excited for him. I don't wanna get too excited because I can only imagine what the Republicans have in store for him. So far, there's this
alleged tape
out there of Michelle Obama sitting on a panel with Louis Farrakhan and tossing around epithets like "Whitey." If this has been around, then why hasn't it come out yet? I guess they're looking to ether Obama's campaign. We'll just wait and see.
Here's Obama's victory speech
UPDATE: Just wanted to add this pic
Now that's looove :-) H/T to
Yaowwwwww!!!
on that pic.
MUST-READ:
So Will the INFAMOUS Michelle Obama Tape Drop Today???