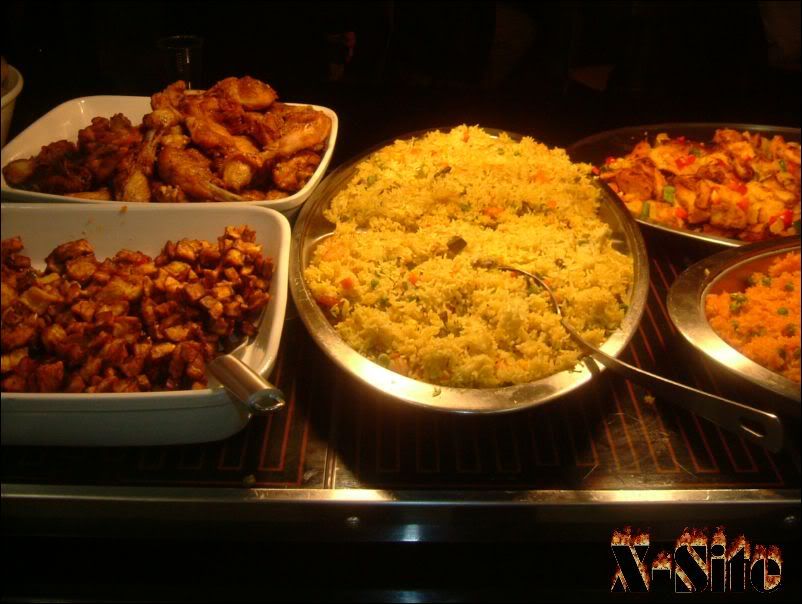 I've come across a lot of articles (print, online, and blog) that discuss assimilating and how a lot of Black people feel pressured to do so. I found an article on
AfroSpear
dealing with the topic and I left the comment below.
Well said.

I remember when I was interviewing for jobs and my coworker (a sista) asked me "Don't you think that your hairstyle may be a hinderance?"

I said "If it is, fuck 'em. This is New York City where I see successful Black people with unprocessed hair all over the place. My hair's neat, my appearance is clean and conservative, I'm articulate, I'm personable, I have a bachelor's, I have work experience, and I have no problems doing work and showing up on time to do so. If my braids are too distracting, then fuck 'em."

She laughed at me. Not at what I said (maybe she was laughing at me, LOL) but my delivery was in my usual sass. But yes, she's very much a proponent of assimilation. She even argues that assimilation be extended into choosing first names for kid.

The problem I have with that is what exactly is so defective about Black people that we have to compromise our uniqueness? The idea of validating racism and chauvinism by way of altering my appearance doesn't sit well with me. If the goal is to achieve a diverse work environment, why not hold people to the standards that they're trying to set? There has to be something more satisfying than just seeing us peppered amongst a sea of White people.
At the time that I had that discussion with my coworker, I had cornrows that weren't of the
Allen Iverson
variety. Normally, I'd pulled the braids into one big braid that laid on my back or I would ball it into a bun. I think that's professional, no? None of my White coworkers gave me weird looks; I got some compliments; thankfully, no one had the nerve to
touch my hair
; and one White coworker thought my hair grew over night, LOL!
I wear braids because I'm transitioning back into my natural hair texture and because of the very low maintenance. There's no better feeling in the morning than to just get up and go :-) No way am I tryna go back to the garden variety
Make You Wait Hair Salon
. There will be a whole lot of kicking and screaming on my end. And besides, the
same ingredient
that helps unclog your sink is used in relaxers. I think I'll have to pass on that.
With regards to the name argument, I think people have the right to name their child whatever they want. I don't like that some people challenge those like me for wanting to give my future kids African (e.g., Chioma) or Hebrew (e.g., Malachi) names. So long as the name has a meaning to it, or sounds really pretty, I can appreciate it. Now, there are three arguments that I've heard from nay-sayers: 1) "Those (read as "Rejected by White folks") types of names affect people's chances at landing a job," 2) "You're in America, you're American-born, so why go for that type of name?", and 3) "Multisyllabic names are hard to pronounce." I can't help but sigh.
The first argument is definitely true as I have seen and read studies to substantiate that hinderance claim. What that argument fails to consider is that being a non-White male can also be a hinderance. You don't know what's going through the minds of these interviewers. They could be thinking, "I've already fulfilled that quota. NEXT!" or they could assume that you fit some negative stereotype.
Another thing that's overlooked are zip code lookups. Your name could be as mainstream as Bob and Becky, but if you're coming from an undesirable neighborhood, your resume could have a meeting with the trash bin.
I really hate the second argument about going the American route with names. I mean, what the hell is "American?" No, seriously. What is it? You've got members from every part of the globe in this country with unusual (read as "non-English") and lengthy first and last names but then assimilators wanna suggest that there are American names and that you should give your child such names. Huh? Ummm...I've met Americans with first or last names like Levi, Juanita, Renee, Wale, Chan, Ramadan, Kapalski, and Jackson and not one of those names are of American origin yet those people are as American as they come.
The third argument is comical. Arnold
Schwarzenegger
is an actor turned governor,
Shoshanna
Lonstein is a fashion designer, yet my short, Nigerian last name stays butchered. Whatever.
Let's keep it funky since we know what's the real issue: Americans DON'T like diversity unless it comes in the form of a dish. Oh yes. I said it.
Chicken Tikka Masala
is sexy, trendy, delicious, and diverse. Now, Parmita the Indian cook, she gets the
stink eye
cuz she ain't the type of "diversity" that's all that appreciated.
Diversity should be about tolerating and/or appreciating someone's differences. Don't just pepper me in there tryna kill two birds with one stone. That's insulting and the goal of diversity obviously isn't an honest effort.
Now, on to the million-dollar question: "Should Black people be conducive to White people?" Other people of color are welcome to leave a comment as it may pertain to your experiences.